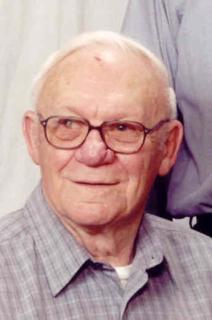 Stanford Saunders
(Obituary)
Stanford "Stan" L. Saunders, 81, of Milan, died Thursday April 9, 2009 at Trinity Medical Center, West Campus, Rock Island, Illinois. Services will be 11:00 a.m. Wednesday at Wheelan-Pressly Funeral Home, 201 E. 4th Avenue, Milan, Illinois. Entombment will be at Greenview Memorial Gardens Mausoleum, East Moline, Illinois.
Visitation will be 4:00 p.m. to 7:00 p.m. Tuesday at the funeral home, where a Masonic service will be conducted at 7:00 p.m. In lieu of flowers, memorials may be made to either Eureka Lodge 69 A.F. & A.M., Milan or to Trinity United Methodist Church, Milan.
Stanford Lane Saunders was born April 26, 1927 in New Boston, IL, a son of Earl and Ruby Hays Saunders. He married Bonnie V. Brown on May 15, 1944 in Davenport, IA.
Stan was a U.S. Army veteran, serving in Korea. In earlier years, Stan worked for Dimock & Gould. He later co-owned the former Blackhawk Kitchen Center in Milan. During his retirement, he worked summers as the weed inspector for the City of Rock Island for over 10 years.
Stan was a member and past master of Eureka Lodge No. 69 A.F. & A.M., Milan. He served as secretary of the lodge for 25 years. He also was a member of Ancient & Accepted Scottish Rite Coordinate Bodies, Valley of Moline, Kaaba Temple Shrine, Davenport, Trinity United Methodist Church, Milan, and the Milan Optimist Club.
He shared his interest in sports with his family, particularly with his grandchildren. Locally, he enjoyed following Rock Island High School sports and was an avid Chicago Cubs fan.
Survivors (and spouses) include his wife, Bonnie Saunders, Milan; children, Stephen (Pamela) Saunders, Rock Island, and Deborah (Kenneth) Youngblood, Milan; grandchildren, Christopher "Fuzzy" (Elizabeth) Saunders, Cameron Saunders, Bryan Saunders, Alison Saunders, Nathan Youngblood, and Nicholas Youngblood. Stan was preceded in death by infant twin daughters, his parents, and one sister, Janeen Green.